Dental Implants 101
Dental implants are small, biocompatible titanium screws that we place with careful precision into your jawbone. Over time, they permanently fuse with the jawbone and provide a stable base for your replacement teeth.
---
Dental Implants FAQs
What's the dental implant procedure like?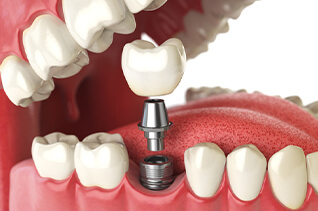 First, we map out your new smile and where your implants will go using our advanced smile preview software. Then, we perform the implant placement surgery. After the implants are in place, we have to wait three to six months for them to heal and fuse with your jawbone. After fusion is complete, we will create your custom-fitted crown, bridge, or denture depending on your needs. Once your tooth restoration is complete, we will snap it in place onto your implants.
When should I get dental implants over another tooth replacement option?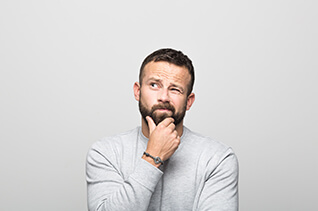 When looking into your tooth replacement options, there are a variety of factors that are taken into consideration: your oral health, budget, smile goals, tooth replacement needs, and more. Dental implants can replace a single tooth or multiple missing teeth. Implants need a healthy jawbone to attach to so if you don't have good jawbone density, you may need a bone graft or to consider other options. At your consultation, we'll perform a thorough examination of your smile and go over your finances and your smile goals. We'll help you determine if implants are the best course of action for you!
Do dental implants require special aftercare instructions?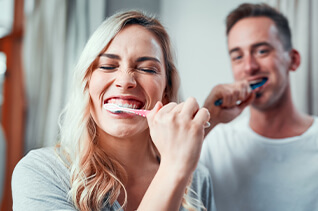 One of the many benefits of dental implants is that they don't require additional maintenance. Once they are healed and your restoration is in place, you can brush, floss, and eat like normal. You don't have to abide by any dietary restrictions or go through additional oral hygiene steps. Just make sure to treat them as you would your natural teeth and they can last a lifetime with proper care.
Schedule a consultation today!