Gentle Care
Dr. Trogdon has over three years worth of experience managing pediatric dental practices, giving him the skills necessary to ensure a great experience for your child. Whether it's a routine check-up, fillings, or braces, Dr. Trogdon, Dr. Stroope, and the Farmington Dental & Orthodontics staff will make sure your child loves going to the dentist.
We treat patients as young as 6 months old.
Pediatric services include exams and cleanings, fluoride treatments, protective sealants, and tooth-colored fillings.
We can safely administer nitrous oxide for anxiety-free dental appointments.
Our digital X-rays are safe for children.
Kids can enjoy specific amenities throughout our practice that are just for them.
Our friendly staff knows how to set kids at ease and make them feel comfortable throughout the visit.
Nothing affects a person's perception of the dentist more than their childhood experiences at the dentist's office. It is all too common to hear our patients discussing their dental anxiety and how they had bad experiences during dental appointments as kids. That's why we put a huge emphasis on ensuring every child has a great experience in our office.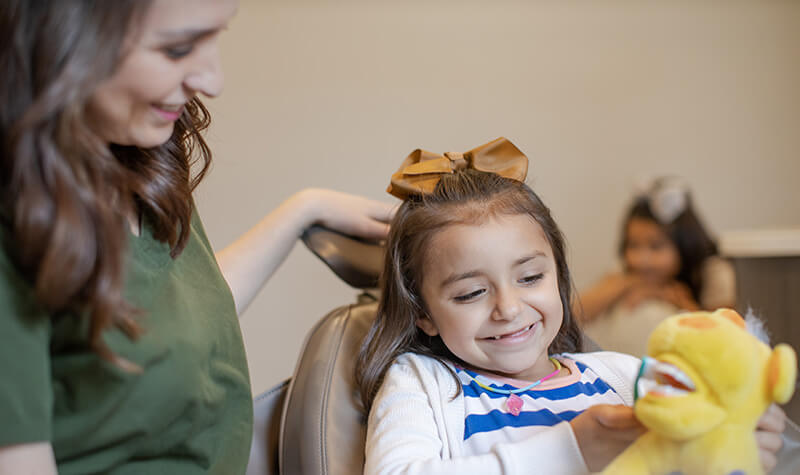 Convenient Scheduling Options
When you're caring for multiple family members, finding the time to get everyone into the dentist can be difficult. In an effort to make your dental experience as simple and stress-free as possible, we offer family block appointments. This way, you can get everyone in and out of our office on the very same day. Our goal is to save you from having to make multiple trips to our office every year.
Frequently Asked Questions
When should I bring my child in for their first dental appointment?
Your child should visit the dentist by the time they're a year old or after their first tooth erupts, whichever comes first.
What's the right age to start orthodontic treatment?
In most cases, children begin orthodontic treatment in their early teenage years. However, each child is different and there is no exact age when treatment should start. We'll keep an eye on their development and unique smile needs to determine the proper time to being orthodontic care. If you are interested in orthodontic options for teenagers or tips on braces care for kids, read more on our blog.
How can I help enforce good dental habits at home?
An important aspect of establishing good at-home dental habits is repetition. If your child is brushing and flossing each day, it will become part of their routine and make it easier to maintain. Leading by example, explaining the importance of dental care, and making it an enjoyable experience are our best pieces of advice!