Urgent Dental Care
Dental emergencies can encompass a number of different scenarios. You may have a knocked-out tooth, broken teeth, severe tooth pain, mild toothache, or a cracked tooth or chipped tooth. If you are experiencing any of these dental injuries, be sure to call our office right away to schedule an appointment. Oftentimes, we can save a tooth if it has been knocked out and brought to us quickly. Waiting to treat a dental emergency can reduce the likelihood of doing this successfully.
Emergency Tooth Extraction
At Farmington Dental & Orthodontics, we provide emergency tooth extractions, including wisdom tooth extraction, with the option of sedation. Our anesthesia and sedation will help you relax and keep you comfortable during the extraction.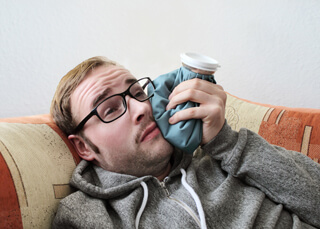 If you are experiencing severe tooth pain, and we can't save the tooth with endodontics and restorative care, then we may need to extract the tooth, which we can replace with a partial denture. If the tooth can be saved, we will perform root canal therapy, and restore the tooth with a natural-looking filling and dental crown.
Dental emergencies can be scary, but don't panic. Our dentists are experienced at handling all types of dental injuries, and will quickly take care of you.
Dental Abscess/Infection
A dental abscess is an infection that is typically identified when a patient notices a swollen area on their gums. Abscesses are also known for being extremely painful. Other symptoms include sudden sensitivity to hot or cold foods, pain in the ear, neck, and face, as well as the mouth, tenderness, fever, and difficulty swallowing.
If left untreated, the infection can spread to other parts of the head, neck, and body. In serious cases, dental abscesses can actually be fatal. If the pain you are experiencing stops abruptly at any point, you still need to make an appointment right away, as the tooth root has likely died, but the infection can still spread. Treating a dental abscess requires an experienced dentist to carefully drain the abscess, cleanse the area, and perform a root canal or dental extraction.
---
Emergency Dentistry FAQs
What should I make an emergency appointment for?
Anything that threatens the health of a tooth, causes excessive tissue bleeding, or results in severe pain in your mouth should be treated as a dental emergency. If you have an abscess or pain that is accompanied by fever you most likely have an infection which should be treated immediately. Sometimes it's difficult for patients to tell the difference between something that needs immediate attention and something that just needs urgent care. Don't worry about making that decision, just call us right away for an appointment. We will discuss the situation and let you know how to proceed.
How should I handle a dental emergency?
There are so many different types of emergency situations that it's best to call our office for direction. There's no need to visit a hospital emergency room for dental emergencies unless you have been involved in an accident and sustained other injuries that require the attention of a medical doctor. Dentists are better equipped than hospitals to handle trauma to teeth. Even if your problem is one that doesn't require a same day visit we can let you know how to ease your discomfort prior to your dental visit.
What should I do if I knock out a tooth?
Time is of the essence with this type of emergency. The faster you can get to our office with the knocked out tooth, the greater the chance that it will survive after we reinsert it. Pick up the tooth by the crown and rinse it off with milk or water. Transport the tooth to the office in a container of milk to keep it moist. No matter what happens, call us immediately to let us know you are coming so we can prepare a room. This is a very common dental emergency, especially among athletes of all ages and it's one that can be prevented. Call us for an appointment to get a custom fitted mouth guard. It's a great way to prevent injury to your athletes' smiles.
Will tooth pain go away on its own?
Sometimes tooth pain will go away if it isn't caused by decay or infection in the tooth. Occasionally a particle of food can get lodged around the teeth and cause temporary irritation. Additionally, tooth pain caused by a head cold or sinus infection won't require a visit to the dentist. However, if your toothache is persistent, then it is likely caused by trouble with the tooth and it won't go away on its own. In fact, the longer you wait to take care of the problem, the more likely it is that you'll be facing a dental emergency.
---
Call Us Right Away!