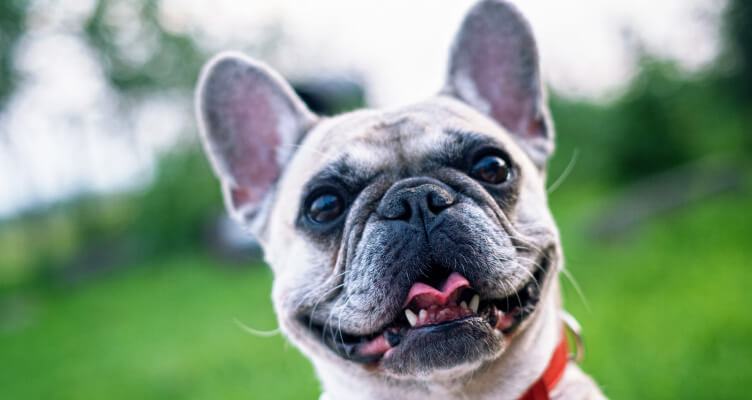 You take your dog on walks, make sure to feed them that kibble they love, and let them out to do their business — but how good are you about looking after their dental health? Just like the rest of your family, man's best friend needs proper oral hygiene so they can avoid issues like cavities and gum disease. We've put together some general guidelines for how to look after your dog's dental health.
Brush Teeth
Humans should be brushing their teeth every day, but we know that it's a little unrealistic to do the same for your dog. If you can't get to it once a day, try shooting for a tooth-brushing session a couple of times a week. The first time you try to brush your dog's teeth, they might be a little confused or uncomfortable so be gentle and patient. It'll take some time for them to get used to it! A good trick is to plan for brushing after they've had playtime so they're a little calmer.
When brushing your dog's teeth, you can use a normal toothbrush or a canine-specific toothbrush that has two heads. The important thing to remember is to not use human toothpaste; buy canine toothpaste instead. The kinds of toothpaste we use often have fluoride in it, which can make dogs sick.
Dental Toys & Treats
Giving your pup a dental toy or treat is one of the easiest ways to take care of their teeth. You don't have to do much more than hand it over and your dog's chewing will do all the work! There are lots of toys, chews, bones, and biscuits out there to choose from, but we recommend buying products that have a "VOHC-approved" stamp. VOHC is the Veterinary Oral Health Council, and the seal means the item has met their standards. Also, be wary of hard treats like unbendable rawhide or sheep or cow bones because those may end up doing more damage than good.
Regular Check-ups at the Vet
The general recommendation is to bring your dog in for a dental check-up at the vet every year. Much like what goes on in your own routine dentist appointment, the vet will provide a thorough cleaning (getting rid of any plaque and tartar), complete an oral examination (checking for gum disease or any other concerns), and take any necessary X-rays (looking for any issues with the tooth roots or bone). If you're in Fayetteville or Farmington and in need of a local vet, check out our neighbors down the road, Country Veterinary Service, Inc.
If it's time for a dental visit of your own, contact Farmington Dental & Orthodontics and we'll be happy to set up you with an appointment.