Are you or your child's teeth crooked or crowded? Has Dr. Trogdon mentioned overbites or underbites? It sounds like it may be time to consider orthodontics. Many times, a general dentist would have to refer you to a specialized doctor for you to get the necessary treatment, but at our dental practice, we also offer orthodontics!
Braces aren't as bad as you might think. And they are definitely not just for kids (almost 20% of all braces wearers are adults)! Maybe you remember being called (or calling someone else *gasp*) "metal mouth" or the discomfort you felt or heard others complain about after a visit to the orthodontist. Don't worry! There's no need to brace yourself because today's braces are much smaller and more comfortable than they were in the past, and you have options beyond traditional metal braces.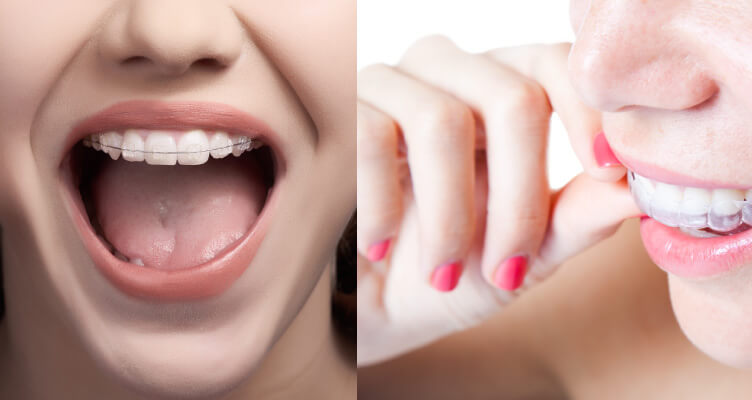 Chances are that you are familiar, at least in passing, with traditional metal braces and Invisalign®, but you probably have a lot of questions. Like which is more effective? Or which is more affordable?
Both braces and Invisalign® are designed to help straighten the smile so let's get straight to the matter and learn more about the differences between two of the most common options for orthodontics: traditional braces and Invisalign®.
Braces
Braces are irremovable brackets glued to the teeth to help with major straightening and fixing other problems like overbite, underbite, or overcrowding. Farmington Dental & Orthodontics offers traditional metal brackets and 3M Clarity™ ceramic brackets.
Modern metal brackets are smaller than they used to be and are also among the least expensive orthodonture options. Ceramic braces are just like metal braces, except they have tooth-colored or clear brackets that help them blend in and be more discrete. 3M Clarity™ Brackets are extra strong, super-fine brackets that are completely translucent, small, and smooth. Lingual braces are even more unseen, as they are traditional braces with the brackets and wires placed behind the teeth.
Invisalign®
Invisalign® aligner therapy consists of clear, removable, custom-made appliances called aligners. Each aligner shifts teeth slightly and is worn for a minimum of 22 hours a day usually for a period of 1 to 2 weeks before moving on to the next aligner in the series. These rules are key to Invisalign® aligner therapy, and they must be followed to achieve the desired results.
Invisalign® is almost completely invisible, and because it can be removed for eating and drinking, there's little to worry about with food getting caught. This is often the more expensive option and is usually only effective for mild to moderate straightening.
Choosing Between the Two
Dr. Stroppe, Farmington Dental's resident orthodontist, will know what kind of braces are best for you or your child. She is certified in a variety of orthodontic options and provides both Invisalign® and traditional braces. Contact us today to get started perfecting that smile!